Awards 2016/17 Season
---
Joseph Naccarato Award, Outstanding Student Athlete and Leadership
Joseph was a personable young man with incredible hockey skill. Joseph is remembered as a player who always displayed the qualities of sportsmanship and dedication to hockey. Away from the ice, he was noted for his citizenship and leadership skills. Joseph always maintained excellent grades and was a model student even with his commitment to hockey. In presenting this award we are looking to recognize these qualities and remember Joseph in awarding this trophy. This award is given to a Bantam player.
We will also follow up with RSS with respect to grades and conduct.
Joseph Naccarato Scholastic player of the year - James LeBuke - sponsored by Style Trends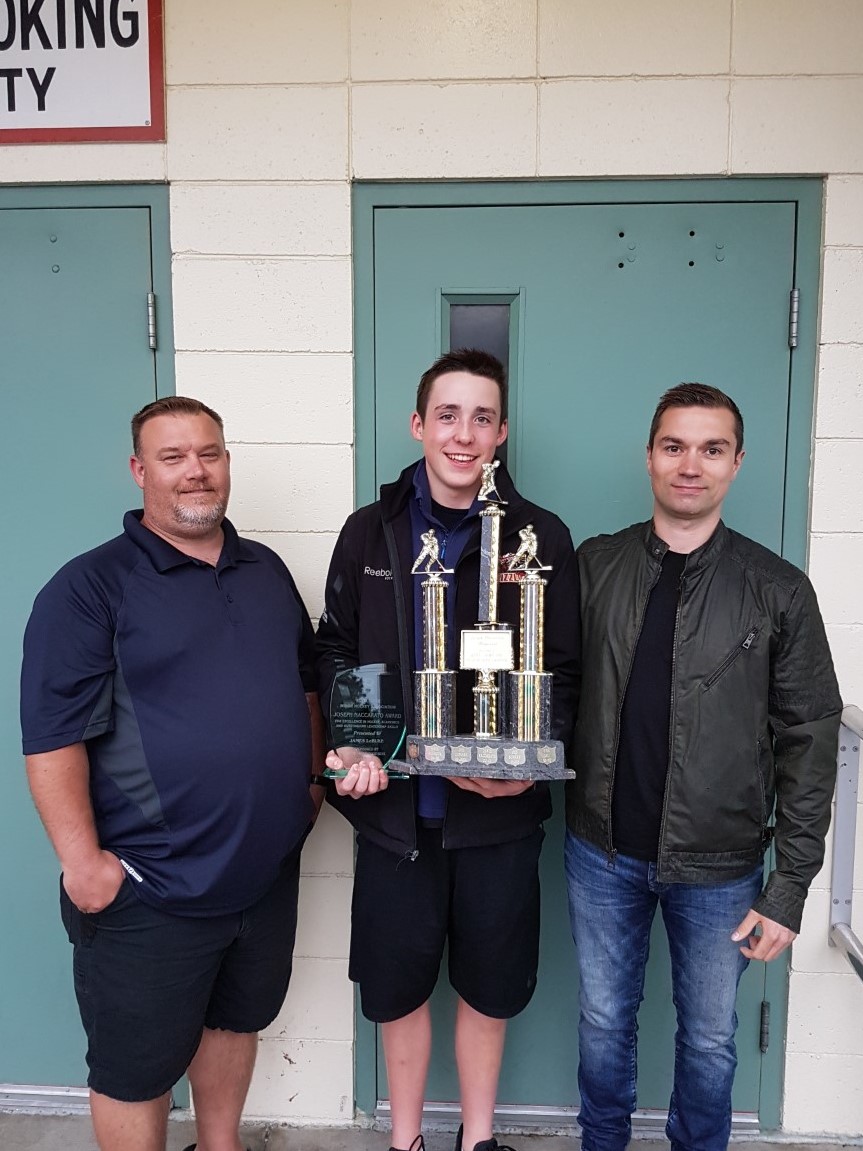 Rusty Berarducci, James LeBuke, Steve Bull
Mike Bafaro Award For Dedication to Hockey
Mike grew up playing minor hockey in Revelstoke. In 1987, after his playing days with the New Westminster Bruins of the WHL were over, Mike returned to Revelstoke and has been an active leader within our association for the past 28 years. At the core of his involvement with RMHA whether it be as a parent, coach or board member there is a passion and dedication to honor the game and its virtues by ensuring that it is taught, played and governed properly. In honor of Mike Bafaro's dedication to our association this award was created to recognize the achievements of the player who perhaps is not the most gifted, but by embracing the virtues of enthusiasm for hard work and true sportsmanship, has dedicated themselves to become the best player they can be.
Mike Bafaro Most Dedicated Player - Brodie Patry - sponsored by Revelstoke Dental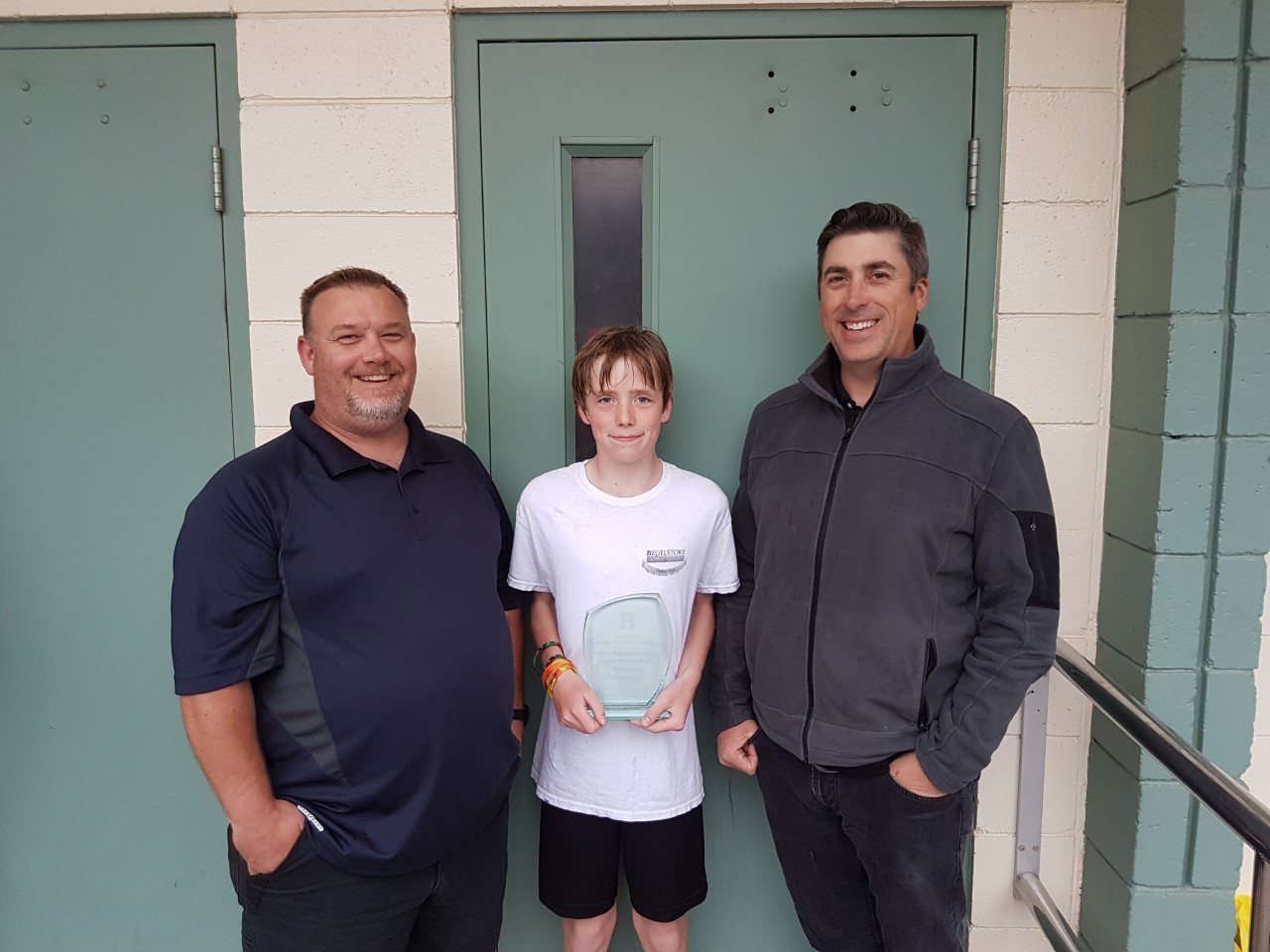 Rusty Berarducci, Brodie Patry, Mike Bafaro
The Bob Vigue Award, Top Goal Tender
Bob Vigue was a long time dedicated Revelstoke hockey dad. To honor his memory and to give back to minor hockey The Bob Vigue Award was created to recognize our association's top goalie.
Top Goalie - Zach Veninsky - sponsored by Swiss Chalet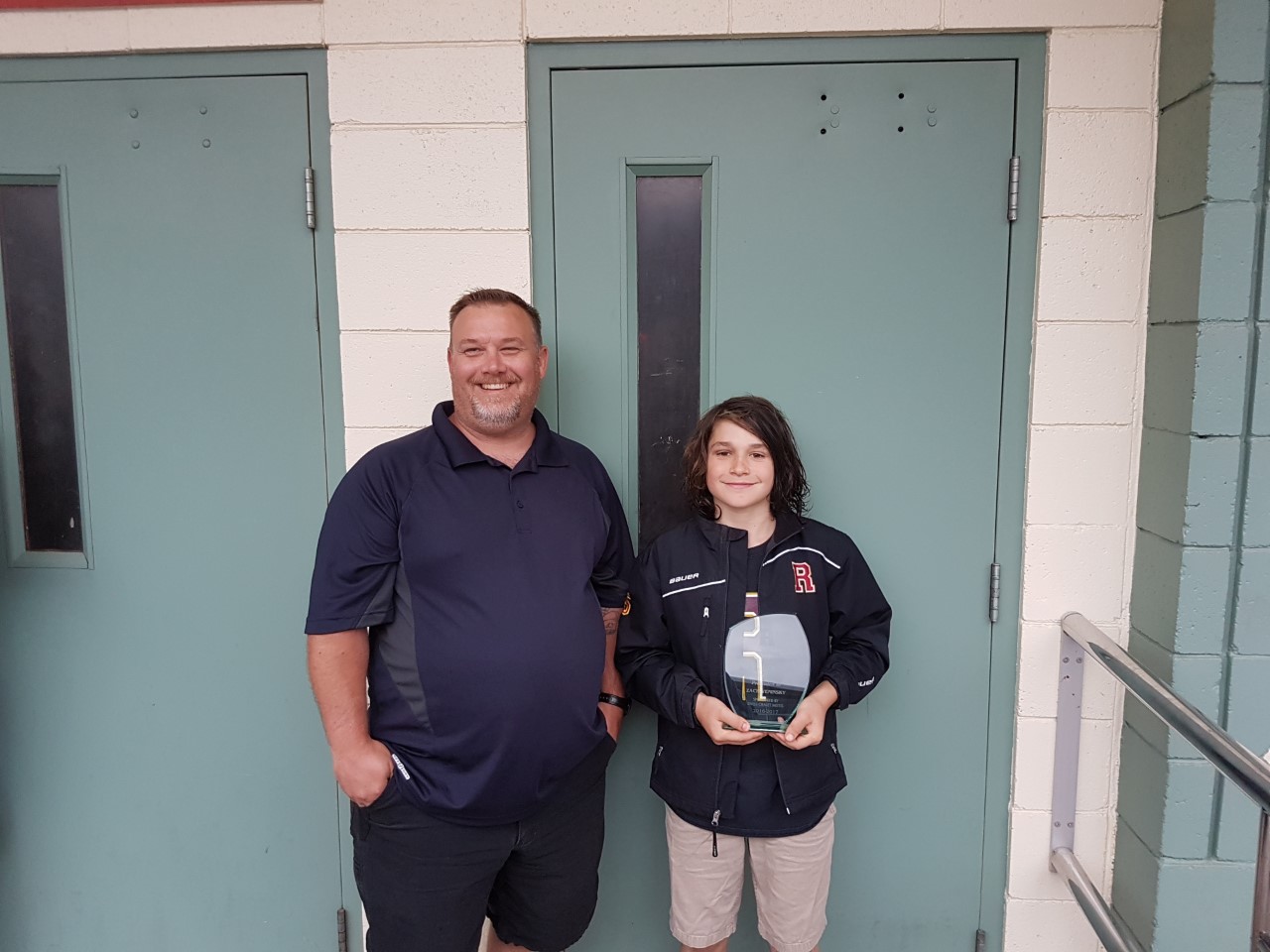 Rusty Berarducci, Zach Veninsky
Larry Black Coaching Excellence Award - Matt Cameron - sponsored by Speers Construction
Heather Ward Volunteer of the Year Award - Dennis Berarducci - sponsored by Grizzy Auto